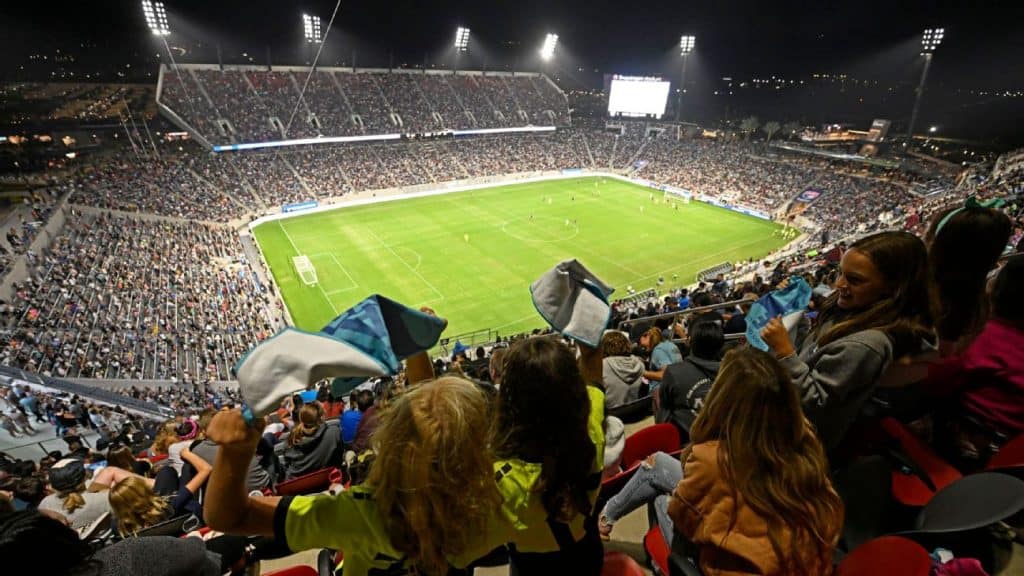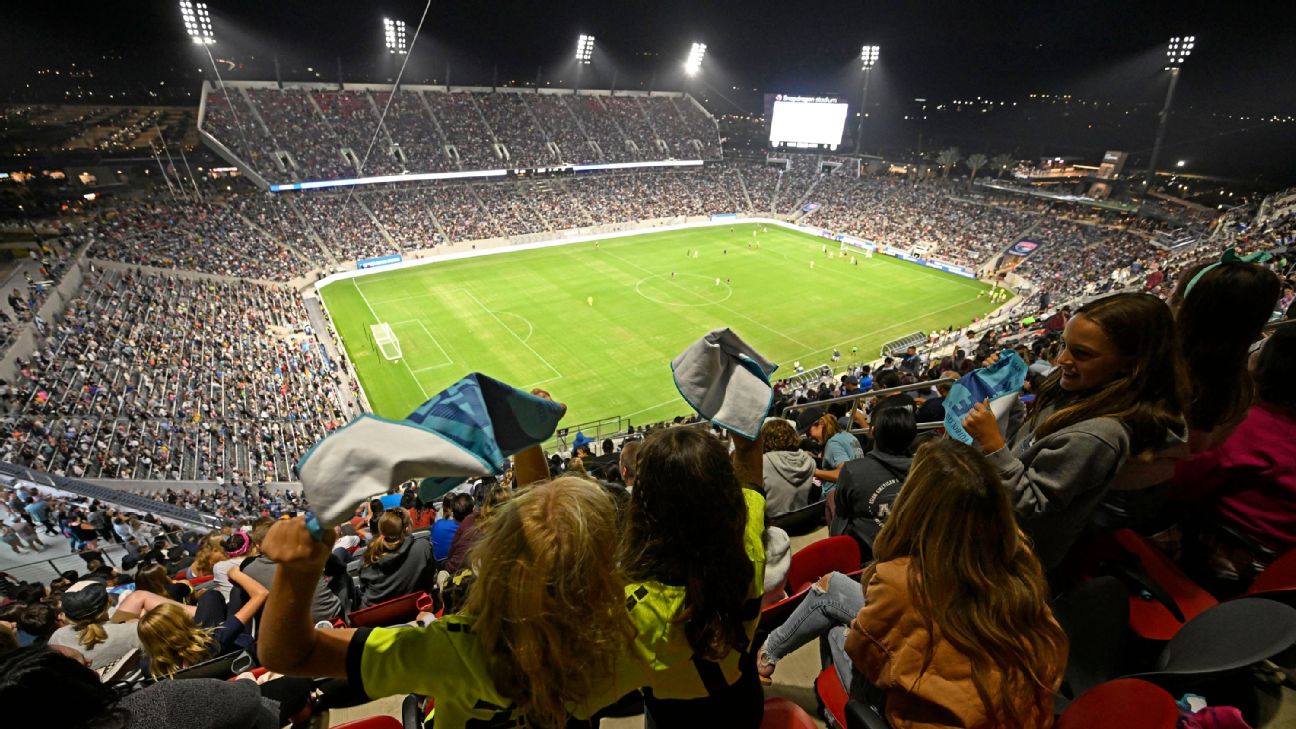 San Diego Wave har knust tilskuerrekorden for enkeltkamper for National Women's Soccer League (NWSL) etter at et utsolgt publikum på 32 000 ble registrert for lørdagens 1-0-seier over rivalene i sørlige California, Angel City FC.
Spillet var Waves første som ble holdt på det nye Snapdragon Stadium på Mission Valley-campus ved San Diego State University.
– Hernandez: Ikke engang Bad Bunny kan ødelegge bølgens fest
– Stream på ESPN+: LaLiga, Bundesliga, MLS, mer (USA)
Den forrige rekorden for et frittstående spill var 25 218, satt tilbake i 2019 i en kamp på Providence Park mellom Portland Thorns og North Carolina Courage.
"Dette er en flott gjenspeiling av momentumet vi ser i kvinnesport," sa San Diego Wave FC-president Jill Ellis da klubben annonserte utsalg tidligere denne måneden. "Vi har solgt hele varelageret vårt, det er utrolig. Vi burde feire dette, men vi bør nå forvente det, store folkemengder for profesjonelle kvinners idretter."
Snapdragon Stadium åpnet forrige måned etter to års bygging. The Wave vil dele plass på det nye stedet med universitetets fotballag, sammen med Major League Rugbys San Diego Legion i 2023.
dette er ikke en drøm.

dette er san diego. pic.twitter.com/RRNUvldtU6

— San Diego Wave FC (@sandiegowavefc) 18. september 2022
The Wave, som er i sin første sesong i NWSL, spilte tidligere på Torero Stadium med 6000 kapasitet ved University of San Diego.
Under hovedtrener Casey Stoney. ekspansjonslaget har hatt en imponerende første sesong i NWSL og gikk inn i lørdagens kamp på tredjeplass i ligatabellen. De seks beste lagene i 12-lagskonkurransen vil kvalifisere seg til sluttspillet, som skal begynne neste måned.
The Wave har blitt ledet av USAs kvinnelandslags store Alex Morgan, som har scoret 15 ledende ligamål så langt denne sesongen.
"Jeg tror det er et vitnesbyrd om kvinnefotball i USA og NWSL, og San Diego Wave og det vi bygger her," sa Morgan til ESPN forrige måned da det først ble avslørt at Wave hadde solgt nok billetter til å bryte deltakerrekord for enkeltkamper.
"Å se dette tallet i dag, akkurat nå, og bare å vite at vi kommer til å få utsolgt, det er bare en utrolig følelse fordi denne klubben har bestemt seg for å bryte oppmøtet til en enkelt kamp i ligahistorien. De har gjort det nå , men nå stopper ikke målene for denne klubben, og jeg er bare veldig stolt over å være en del av det."