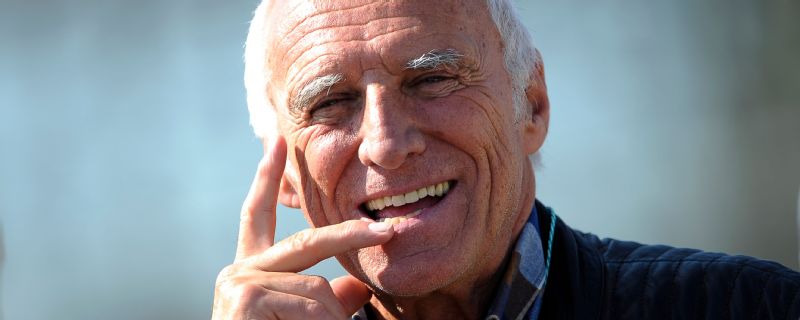 Red Bull-eier og medgründer Dietrich Mateschitz er død 78 år gammel etter lang tids sykdom.
Østerrikeren grunnla energidrikkeselskapet i 1984 sammen med Chaleo Yoovidhya og bidro til å etablere det som verdensledende innen sin bransje.
Mateschitz var opptatt av ekstremsport i en tidlig alder og brakte snart Red Bull inn i sportsverdenen, hvor den har hatt suksess på tvers av flere disipliner.
Det har den gjort mest kjent i Formel 1.
Etter år med engasjement i sporten som sponsor, kjøpte Red Bull Jaguar F1-laget i 2004 og Minardi-laget i 2005. Sistnevnte, som opererer fra Italia som selskapets juniorlag, ble omdøpt til Toro Rosso og konkurrerer i dag som AlphaTauri .
Red Bull har vunnet fire konstruktørmesterskap (2010, 2011, 2012, 2013) og seks førertitler, den siste ble sikret av Max Verstappen i den japanske Grand Prix.
Teamet er på nippet til å vinne sin femte konstruktørtittel og kan gjøre det i USAs Grand Prix på søndag.
Red Bulls berømte førerakademi har bidratt til å produsere to verdensmestere, Verstappen og Sebastian Vettel, samt vinnere av grand prix-løp i Daniel Ricciardo, Carlos Sainz og Pierre Gasly.
"Desperat triste nyheter om at vi har fått vite om bortgangen til Dietrich," sa Red Bull F1-sjef Christian Horner lørdag ettermiddag. "Han var en bemerkelsesverdig mann, det han har gjort for så mange, ikke bare i Formel 1, men i Red Bull-bransjen og Red Bull-verdenen på tvers av alle de sportslige plattformene.
"Han var en mann som inspirerte så mye. Han er grunnen til at vi er her, det var hans lidenskap for Formel 1 og hans visjon som er grunnen til at han har to lag i Formel 1 pitlane. Han var alltid entusiastisk, oppmuntrende og støttende på de gode dagene og de dårlige dagene.
"Så mange skylder ham så mye, og jeg føler meg privilegert som har kjent ham, og jeg tror for hele teamet nå, til tross for sjokket, vi kommer til å gjøre akkurat det han ville ha ønsket, som er å gå ut dit og med bilene hans gjøre det beste vi kan og prøve å legge ned konstruktørmesterskapet. Det er viktig at vi anerkjenner alt han har bidratt med til sporten, men ikke bare sporten fordi den går langt, langt utover det."
Bortsett fra F1 har Red Bull Salzburg vunnet 13 østerrikske fotballmesterskap siden han tok på seg firmanavnet i 2006.
Andre fotballag som eies av selskapet er New York Red Bulls, RB Liepzig, Red Bull Brasil, hockeylagene EHC Munchen og EC Red Bull Salzburg. Det eier også esports-laget Red Bull OG.