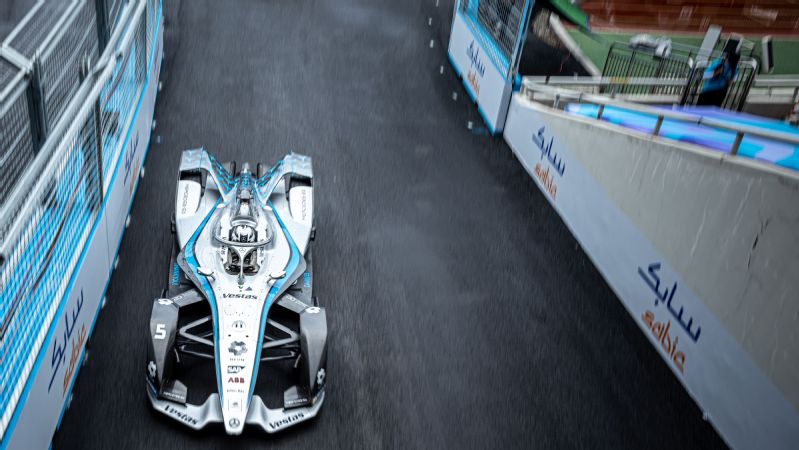 Belgiske Stoffel Vandoorne vant Formel E-tittelen for det avgående Mercedes-teamet på søndag da mesterskapet i elektriske motorløp avsluttet sesong åtte med det 100. løpet i historien.
Den andre av to E-prixer i Seoul avsluttet også en æra for den FIA-sanksjonerte serien, med sesong ni i 2023 som introduserte en ny generasjon raskere, lettere og mer energieffektive biler.
Den tidligere McLaren F1-raceren Vandoorne startet som nummer fire og ble nummer to i søndagens løp i og rundt den sørkoreanske hovedstadens olympiske stadion for å ta sitt første mesterskap 33 poeng foran Mitch Evans i en Jaguar.
New Zealanderen Evans, som hadde vunnet fra tredjeplass på lørdag for å lukke gapet til 21 poeng, endte på sjuende etter å ha kvalifisert seg kun på 13. plass for et løp han måtte vinne mens han håpet at Vandoorne endte utenfor topp syv.
"Dette er fantastisk; for en sesong det har vært. Det er bare den beste følelsen noensinne … det vi har oppnådd er noe spesielt," sa Vandoorne.
"Det handlet virkelig om konsistens på slutten," la 30-åringen til, som tok tittelen til tross for at han vant færre løp enn Evans og sveitsisk-italienske Edoardo Mortara, søndagens vinner for Venturi-laget og tredje totalt.
Vandoorne vant bare én gang i 2022, i Monaco, med Evans og Mortara som tok fire hver.
Storbritannias Jake Dennis ble nummer tre på søndag for Avalanche Andretti etter å ha blitt nummer to på veien, men han fikk en fem sekunders straff for å forårsake en kollisjon som falt stangpasseren Antonio Felix da Costa bakerst i flokken.
Mercedes EQ, som beholdt sin lagtittel foran Venturi og DS Techeetah, har solgt antrekket sitt til McLaren og forlater Formel E på topp etter å ha beseglet begge mesterskapene for andre år på rad.
De vant fjorårets førertittel med den nederlandske syklisten Nyck de Vries.