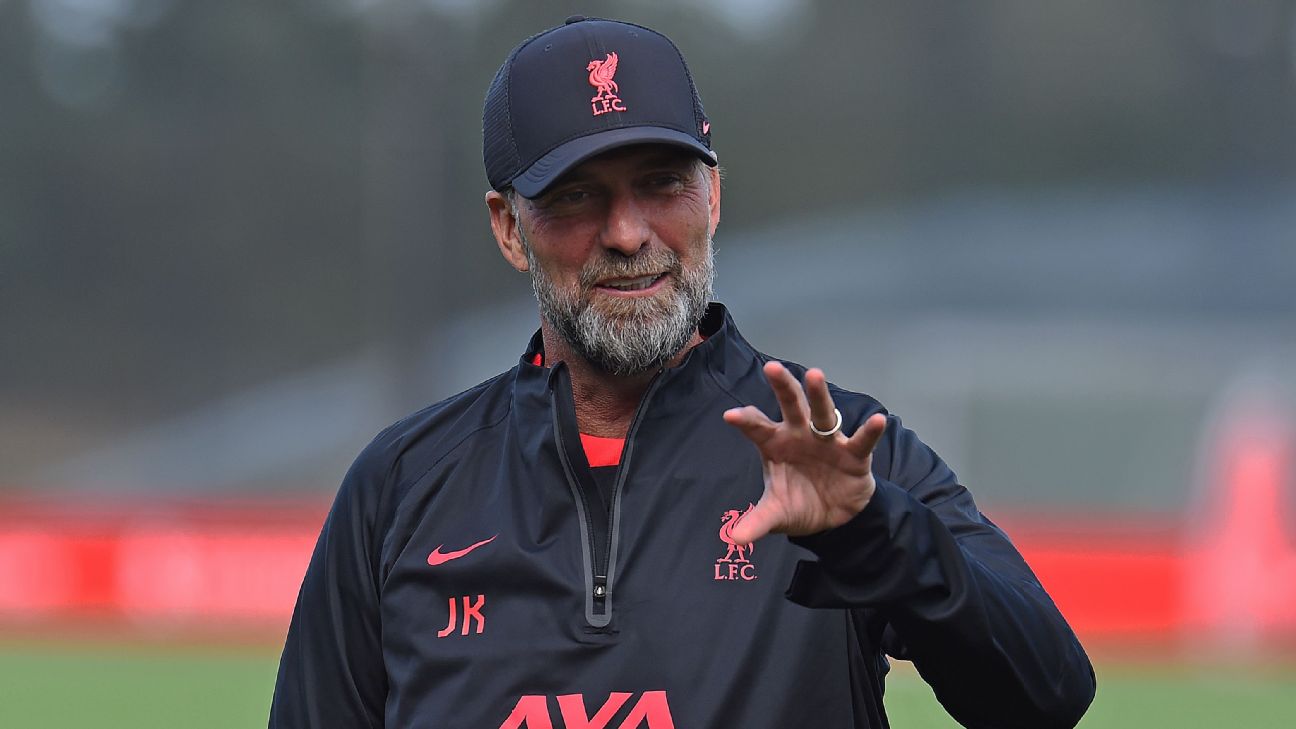 Facebook
Facebook Messenger
Pinterest
E-post
Liverpool-manager Jurgen Klopp sa at laget hans burde bli tildelt de tre poengene hvis mandagens Premier League-kamp mot Manchester United på Old Trafford blir avlyst på grunn av hjemmefans som protesterer mot eierne deres.
Kampen mellom engelsk fotballs to mest suksessrike klubber måtte legges om i mai 2021 etter at United-fans invaderte banen før avspark i protest mot Glazer-familien. Tilsvarende demonstrasjoner er planlagt på mandag.
– Alt du trenger å vite om Man United signering av Casemiro
– Overgangssummen for Casemiro er den nest største noensinne for en spiller over 30 år
– Har du ikke ESPN? Få umiddelbar tilgang
"Jeg håper virkelig det ikke vil skje, men hvis det skjer, tror jeg vi bør få poengene," sa Klopp til journalister før kampen. «Vi har ingenting med situasjonen å gjøre, og hvis supporterne vil at kampen ikke skal skje, kan vi ikke bare omorganisere kampen igjen og passe den inn et sted i en utrolig travel sesong.
"Jeg har ingen anelse om hva som kan skje, og jeg tenker ikke på det. Folk forteller oss at vi har det bra, vi drar dit og spiller kampen forhåpentligvis og drar hjem.
"Men i en situasjon som denne bør alltid det andre laget få poengene fordi de ikke har noe med det å gjøre og de har forberedt seg på det."
Den amerikanske Glazer-familien har vært under ild fra fansen etter Uniteds dystre start på sesongen. De har tapt de to første kampene og klarte ikke å sikre overføringsmål.
Glazers er angivelig åpne for å selge en minoritetsandel i Manchester United, og den britiske milliardæren Jim Ratcliffe uttrykker interesse for å kjøpe klubben.
Liverpool ser også etter sin første seier i kampanjen etter uavgjort mot Fulham og Crystal Palace.