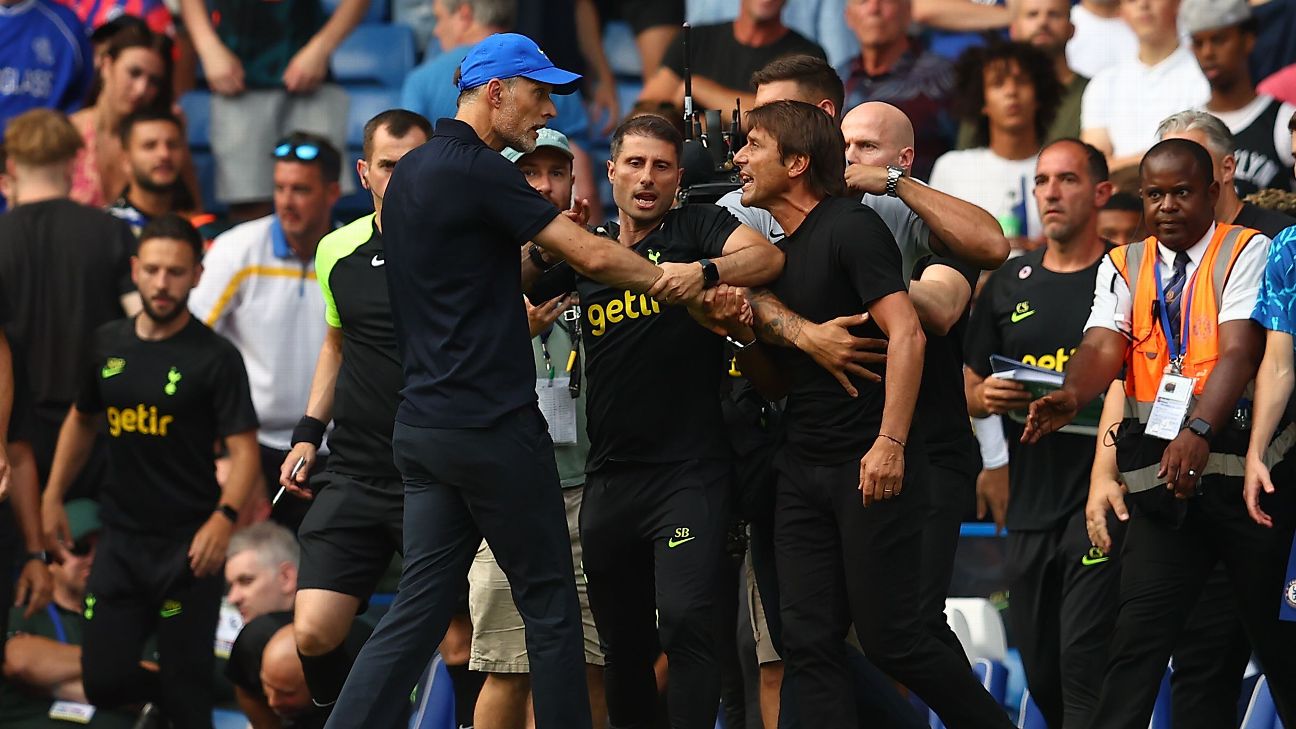 Chelsea-manager Thomas Tuchel har blitt utestengt fra sidelinjen i én kamp av det engelske fotballforbundet etter en konfrontasjon med Tottenham Hotspur-sjef Antonio Conte på slutten av søndagens opphetede Premier League-trekning på Stamford Bridge.
Lederne håndhilste kort etter uavgjort 2-2, men temperamentet blusset opp mens de gjorde det, og de to måtte skilles av spillere og ansatte fra begge lag.
– Notatbok: Chelseas Pulisic er klar for showdown-samtaler
– Rangering av hver overføring mellom store seks klubber
– Hvilke klubber tjener mest i overgangsvinduet?
– Har du ikke ESPN? Få umiddelbar tilgang
Begge managerne ble også vist røde kort av dommer Anthony Taylor som et resultat av bruddet, og FA anklaget paret for "upassende oppførsel" for deres oppførsel.
FA sa at Tuchels forbud ble suspendert midlertidig i påvente av den uavhengige reguleringskommisjonens skriftlige begrunnelse for sine avgjørelser, som vil bli gjort tilgjengelig senere.
Tuchel ble også bøtelagt 35 000 pund, mens Conte ble bøtelagt 15 000 pund etter at begge managerne innrømmet at oppførselen deres var upassende.
Chelsea-sjefen så ut til å se den morsomme siden av bråket hans med Conte på en pressekonferanse før straffen ble kunngjort fredag.
"Det er veldig viktig å le av oss selv," sa Tuchel.
«Selvfølgelig ler vi [about the handshake turning into an internet meme]. Jeg lo i garderoben fordi det var kampens hete og det var fortsatt ikke så ille for meg, det var et håndtrykk, litt for langt og for tungt håndtrykk jeg innrømmer det, men ingen skade ble gjort, i det minste fra min side.
"Han snakket italiensk til meg, så jeg vet aldri hvordan vi ikke fornærmet hverandre. Saken ville ha tatt slutt hvis det ikke var 20 mennesker rundt oss for å få det til å se mye verre ut enn det faktisk var. Men hvis du har [a] reaksjon som dette, du må leve med reaksjonen mot den."