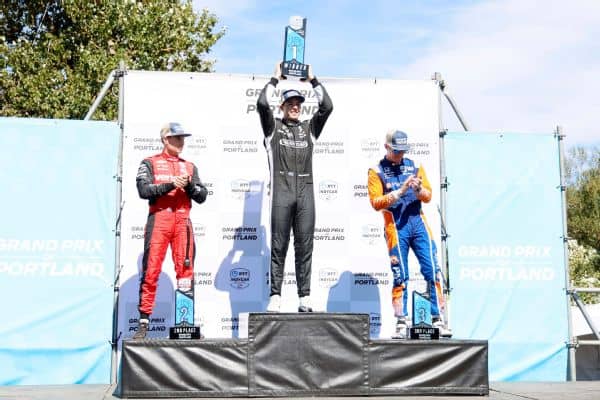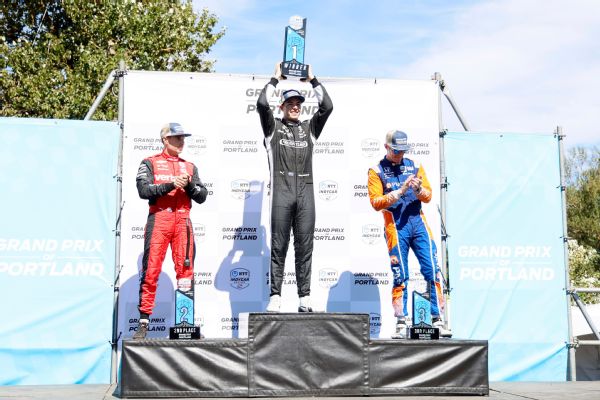 PORTLAND, Ore — Scott McLaughlin ledet en Team Penske-rute på Portland International Raceway ved å score sin tredje seier for sesongen i en 1-2-avslutning som flyttet Will Power ett løp nærmere IndyCar-mesterskapet.
McLaughlin ledet 104 av de 110 rundene søndag for å hente sin tredje seier for sesongen. Han følger kun Penske-lagkameraten Josef Newgarden (fem) i de fleste serieseire, men en inkonsekvent sesong har fått New Zealanderen til å holde fast ved eventuelle tittelsjanser.
McLaughlin går til neste søndags sesongfinale på Laguna Seca i California rangert på femte plass, 41 poeng bak Power, men fortsatt matematisk i jakten.
"Vi gjorde akkurat det vi trengte å gjøre denne helgen som var å vinne og få maksimale poeng," sa McLaughlin. "Vi må holde oss i det, og vi er et langskudd, men vi har et skudd."
Power hadde i mellomtiden en relativt enkel kjøretur, men aldri nok til å utfordre McLaughlin om seieren. For å nøye seg med andreplassen tar han en ledelse på 20 poeng inn i finalen over både Newgarden og seks ganger IndyCar-mester Scott Dixon.
"Vi er i den beste posisjonen, vi har det beste skuddet, vi skal gjøre så godt vi kan," sa Power.
Dixon endte på tredjeplass, men vant ingen terreng i tittelkampen; Newgarden falt fra fjerdeplass på omstarten med 22 runder igjen for å komme på åttende plass og tape 17 poeng til Power i Penske-mesterskapet.
"Vi er fortsatt i kampen," sa Dixon, som startet som nummer 16. "Vi må slutte å få disse mest forbedrede av løpsprisene."
Newgarden beklaget sitt sene dekkvalg, noe som gjorde at han ble en sittende and over den siste stinten.
"På dette tidspunktet er det på en måte som det er. Jeg kommer til å prøve å vinne det løpet og gå for blakk," sa Newgarden. "Jeg vet ikke hvordan Laguna kommer til å spille, men vi kommer til å gå for å spille og se hva som skjer."
De tre Penske-bidragene var klassen i feltet i Portland, der laget brukte sin siste test for sesongen til å forberede seg til søndag. Trioen var rask i hver økt og hadde en klar fordel over Chip Ganassi Racing, som valgte å bruke sin siste test på Laguna Seca i påvente av finalen.
Ganassi hadde Dixon, Indianapolis 500-vinner Marcus Ericsson og regjerende IndyCar-mester Alex Palou i titteljakten, men bare Palou hadde en anstendig kvalifiseringsinnsats. Dixon og Ericsson klarte ikke å rykke ut av den første kvalifiseringsgruppen, og Ericsson rykket bare til 11. Svensken er 39 poeng bak Power, nummer fire på stillingen.
Selv om Palou endte på 12. plass og Pato O'Ward ble nummer fire, ble begge eliminert fra tittelstriden.
"Hadde ikke nok for Penske-guttene. De dominerte alle, ikke bare oss," sa O'Ward.
NESTE
IndyCar avgjør mesterskapet sitt med neste søndags finale på Laguna Seca Raceway i California. Herta er den to ganger forsvarende løpsvinneren.